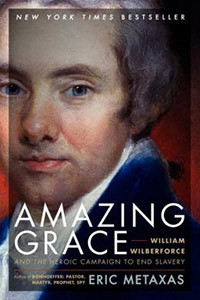 William Wilberforce gives me hope. I've seen the movie but I'd never read the book – what a story! Evil can be defeated when good people believe and act. Wilberforce pursued the abolition of the slave trade in the British Empire for years and years. He pursued this change politically, using his position in parliament, all the while spurred on by his Christian faith.
Wilberforce enlisted others in the cause. He endured painful defeats, ongoing ridicule and merciless scorn. For years he pursued the fight when no one appeared to be listening. Finally, in the last days of his life, his bill passed and slavery was abolished. It seems that the Lord graciously let him live long enough to see the victory.
This is a compelling book about faith and friendship, as well as about fighting institutional evil and remaining resolute despite years of setbacks. The church needs many young "Wilberforces" today and this book will encourage you in that direction.