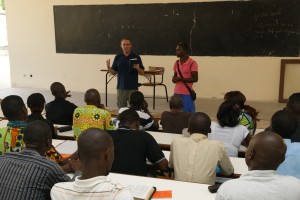 The heinous attacks last week at Garissa University College in Kenya that left 142 students dead hit close to home. I work with many Cru staff and students in this part of the world (the picture above is from a campus visit in Ivory Coast). I've been in Africa numerous times. Students I've interacted with there are bright, full of life and hopeful, like college students everywhere. They are the pride of their families and most are the first to go to a university. They are the hope of their nation.
Which is why the terrorists struck the university. They killed to make their point, they killed for revenge against the Kenyan government and for shock. They killed in the name of Islam, targeting Christian students and sparing Muslims. These attacks are not new, but are more brazen than before. When will such an attack happen closer to home, like at the University of Colorado?
Please join me in praying for the families of the students slain. Pray for them in their grief and in their hope cut short. I'm reminded of the passage in Ephesians 6 that tells us that we battle not against flesh and blood, but against spiritual forces of wickedness. Pray that hearts around the world now enslaved would change, that Muslim peoples would begin to see how easily their religion is hijacked for evil. Pray that they would turn to Jesus as Lord, one whom they now revere only as a prophet, and turn away from the teachings that are so easily twisted. Finally, pray for our Cru staff all across Africa as they step out bravely to minister in a frightening situation.
This tragedy underscores the need for our work on universities around the world, especially in regions where the Muslim and Christian worlds intersect. The Global Missions team of Cru recently set a goal to launch 1,000 new campus ministries worldwide by the year 2020. We currently have a list, still in progress, of over 300 top African universities with no gospel witness. On thing is certain, while this event gives pause and will bring increased precautions, we will go. As these events prove, the world needs the good news of Jesus now more than ever.